Track C500: reliable versatility
The Tinger Track C500 is the "golden standard" of the Tinger ATV range. Thanks to its compact size it can easily fit in a standard trailer or transit van but with its intelligent design does not compromise on capacity. The C500 is not afraid of adversity. It's powerful design and high quality of construction allow passing tundra terrains and sandy deserts, snow and water obstacles.
High passability has been achieved through strong, durable 500 mm tracks that have extra-low ground pressure: 0.05 kg / m2. Redesigned and reinforced long-travel suspension provides maximum comfort and stability even on rough terrain with speeds up to 35 km / h.
The powerful engines (57hp and 68hp variants) are the driving force behind the strength and temperament of the C500 giving the vehicle a towing capacity of 800 kg. Its ability to pull heavy loads makes it ideal for conducting agricultural activities turning your ATV into a fully-featured tractor. You decide what kind of vehicle it's going to be: assertive and aggressive or obedient and practical.
Having a Tinger Track C500 means you're not going to search for compromises. You don't have to consider the option of "either / or". With your Tinger Track C500 will have unlimited control over any situation!
UNIQUE FEATURES
Supreme off-road performance

Tinger ATV can easily overcome poor roads or trails, rugged terrain, swamps and forests. Wide tracks, maneuverability and low ground pressure give you freedom of movement anywhere.

Tamer of water hazards

Tinger ATVs have unmatched versatility combining off-road performance with the ability to traverse water. Crossing water obstacles is easier than it seems. With durable and safe low pressure polyethylene HDPE waterproof body, powerful engine system and reliable transmission you have the freedom to choose your own path.

Reliable assistance when you need it

Tinger ATV – the latest and best choice for home and farm. With its compact design, multi-function use and powerful drive system it can easily replace any tractor for field work or haulage. With your ATV and plow, rake or harrow installation and you will be able to complete the whole cycle of preparation and sowing on your farm without additional special equipment. One Tinger – many possibilities!
FUNCTIONAL ADVANTAGES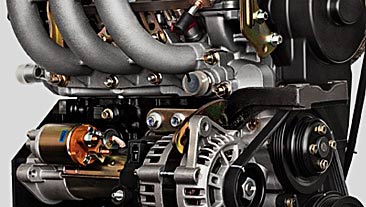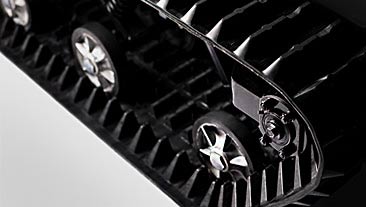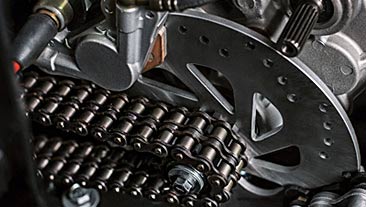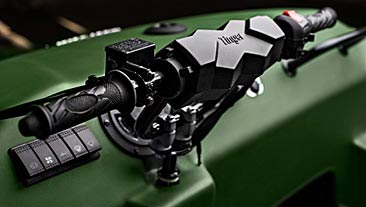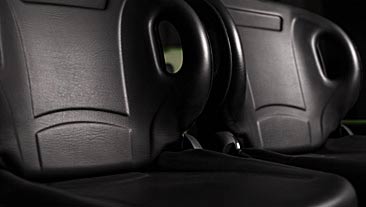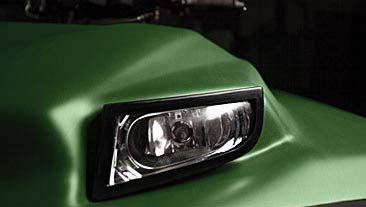 TECHNICAL SPECIFICATIONS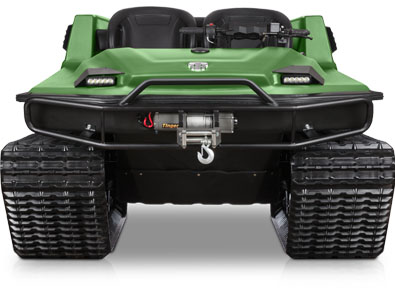 1900 mm (75 in)
1260 mm
(50 in)
Technical characteristics
Length / Width / Height
3000 mm / 1900 mm / 1260 mm
(118 in) / (75 in) / (50 in)
Engine
Chery SQR
2 cylinders / 600 cc / 35,4 hp
3 cylinders / 812 cc / 57 hp
Track
Tinger Track 147 (width 500 mm (20 in))
Dry weight
950 kg (2094 lb)
Ground pressure
0,05 kg/cm2 (0.7 lb/in2)
Tractive effort
800 kg (1764 lb)
Fuel tank capacity
38 liters (10 US gal) (appox.8 hours of driving)
Number of passengers
5 people onshore / 4 people on water
Cooling system
liquid
Brake system
hydraulic
Transmission system
planetary differential
Steering
ergonomic handlebars
Load on the tow bar
150 kg (331 lb)
Working temperature, conditions
from -40С° to +40С° (from -40°F to 104°F)
any weather, any terrain