Amazing universality
An abundance of space!

The Tinger multifunctional trailer can carry up to 300 kg loads with a capacity of up to 2m³. You can put everything in it from hunting trophies to a compact fishing motorboat. Depending on your requirements the trailer can be transformed into a comfortable gazebo for up to 8 people or a full size three man tent. The adjustable ski wheel replacements, tent frame or rigid roof are installed easier than they seem. Watch the video and you'll understand.
Features and benefits
Tinger TS: a reliable assistant for ever situation
The new Tinger TS trailer is suitable for any off-road equipment and designed specifically to work in extreme conditions in any weather and at any time of year. Using special low-pressure tires the TS trailer can overcome almost any off-road and water obstacles. The multifunctional trailer is made from high density polyethylene HDPE a lightweight, high-strength and impact-resistant composite material. This material does not rot or rust.
In fact the TS is a real "workhorse" being able to carry up to 300 kg of cargo. The trailer can accommodate up to 6 people. When necessary the TS can turn into a full-fledged three man tent for camping out or taking a break from extreme elements. In winter, you can install a ski module in place of the wheel system. In conditions of severe weather the windproof and waterproof tent can be tilted for extra protection.
The amphibious trailer works in conjunction with all-terrain vehicles, cars, ATVs and snowmobiles. No matter whether you are hunting, fishing, conducting outdoor activities or household jobs the TS becomes a superbly reliable and multi-function assistant that you won't be able to do without.
A complete list of accessories for the Tinger TS and prices can be found by downloading the price list.
For active recreation

The impressive volume of the trailer will let you take all necessary equipment with you without having to compromise on anything. Fit everything! Even a motorboat can be fixed with special railings on the rigid roof of the trailer.

For large groups

The soft, comfortable seats of T4 trailer can accommodate as many as 8 people. You simply have to attach the trailer to your car or ATV, load up what you need, drive to the location, unload your gear and passengers and convert the trailer into a comfortable summerhouse. The true essence of convenience.

For a comfortable overnight stay

Take care of yourself and your loved ones. Should you wish the trailer converts from a comfortable gazebo into a full sized three man tent. Easily transformable seats, hardtop and awning will provide you with the perfect place for a calm and relaxed sleep where ever you are.

To help with the housework

Durable and roomy and capable of transporting heavy goods the trailer will be a reliable companion for fans of country living. Transporting building materials, tools or other equipment is what it was created for.

Go anywhere

The best places for hunting, fishing and hiking are almost always in places where there are few roads and transportation of equipment is required. Due to the tough and durable high-density polyethylene HDPE the trailer will overcome any off-road terrain safely and is not afraid of any water hazards.

For winter adventures

Special ski modules for the trailer will allow you to go with your snowmobile to conquer any winter spaces. At the same time the sealed awning will protect you from the wind and snow. Check it out - winter fishing and hunting has never been so comfortable.

Many applications, one trailer

With the Tinger trailer you no longer need to choose what to load into the car or have to compromise with nature. Bring anything you see fit and go wherever you want. Tinger will take you across any terrain in comfort.
TECHNICAL SPECIFICATIONS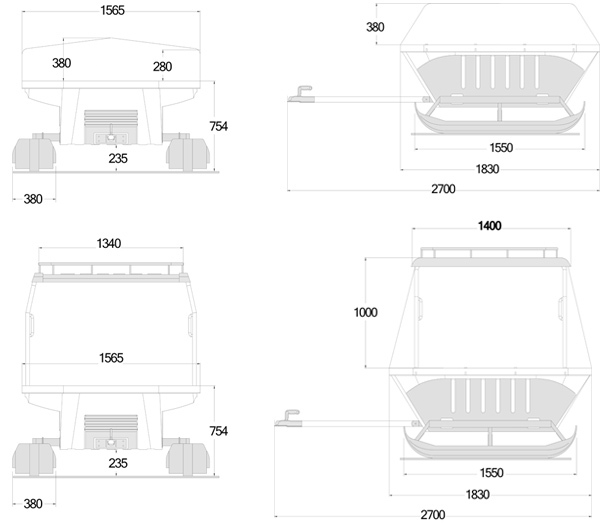 Technical characteristics
Capacity
500 kg (1102 lb)
Wheel size
ski module
Wheel count
2 (the ability to install 4 wheels)
Body material
impact-resistant plastic body of HDPE brand, thickness up to 10 mm.
Frame
high strength welded steel construction
Trailer coupling type
- ball
- hinge for snowmobile
IT IS TIME TO HAVE A PERSONAL EXPERIENCE
For more information about Tinger cross-country vehicles e-mail us at: info@tingeratv.com. You can also fill out the form below and our managers will be happy to answer any questions.