ARMOR W8: uncompromising choice
The wheeled Tinger Armor W8 ATV was created to be the intersecting point of design and functionality. Its primary purpose is remarkably comfortable driving on any road in any weather and any season. Rain, snow, ice, marsh and swamp - there are no tangible barriers for the W8. It will pass where others have to turn back in search of passable road.
The 8x8 wheel formula provides a towing capacity of 700 kg while the powerful 35hp, 57hp and 68hp engines prove once again that the W8 is the uncompromising choice for those who are not accustomed to defeat and ready to forge their own way. The Tinger Armor W8 overcomes not only land but also water obstacles. Whenever necessary you can install tracks on the wheels which means you don't leave impassability any chance.
Hunting, fishing, outdoor expeditions or farming - This ATV is versatile and truly reliable. Challenge yourself together with Tinger Armor W8!
UNIQUE FEATURES
Supreme off-road performance

Tinger ATV can easily overcome poor roads or trails, rugged terrain, swamps and forests. Wide tracks, maneuverability and low ground pressure give you freedom of movement anywhere.

Tamer of water hazards

Tinger ATVs have unmatched versatility combining off-road performance with the ability to traverse water. Crossing fords, streams and lakes is easier than it seems. With a durable and safe low pressure polyethylene HDPE waterproof body, powerful engine system and reliable transmission you have the freedom to choose your own path.

Reliable assistance when you need it

Tinger ATV – the latest and best choice for home and farm. With its compact design, multifunction use and powerful drive system it can easily replace any tractor for field work or haulage. With your ATV and a plow, rake or harrow attachment and you will be able to complete the whole cycle of preparation and sowing on your farm without requiring additional specialist equipment. One Tinger – many possibilities!
FUNCTIONAL ADVANTAGES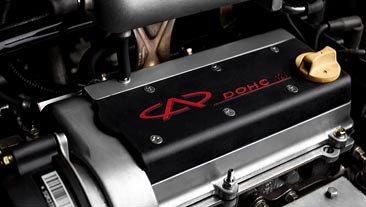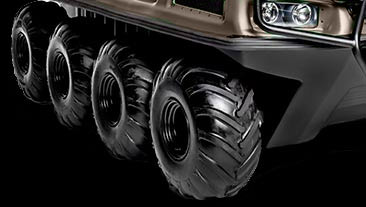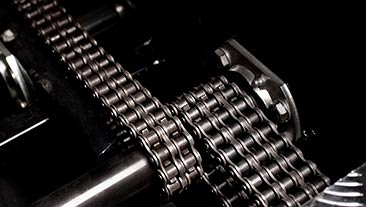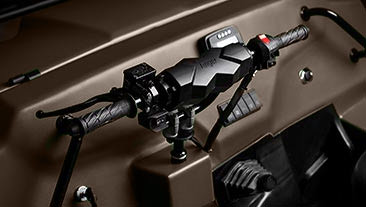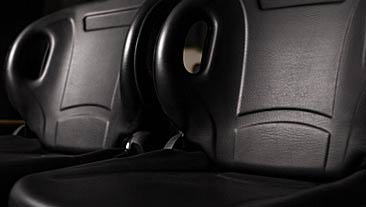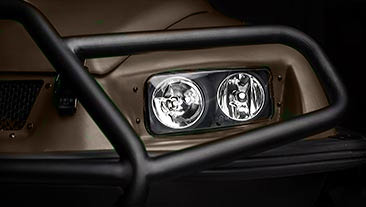 TECHNICAL SPECIFICATIONS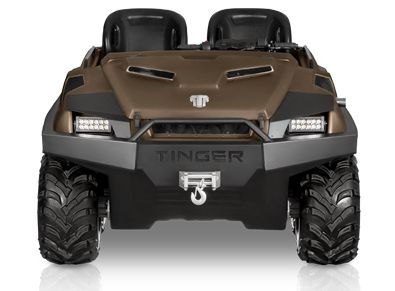 1700 mm (67 in)
1280 mm
(50 in)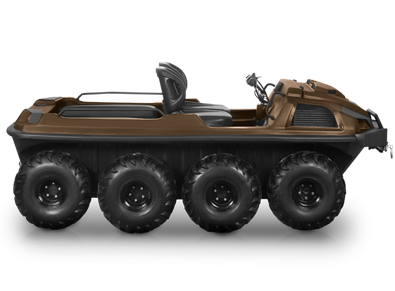 Technical characteristics
Length / Width / Height
3100 mm / 1700 mm / 1280 mm
(122 in) / (67 in) / (50 in)
Engine
Chery SQR
2 cylinders / 600 cc / 35,4 hp
3 cylinders / 812 cc / 57 hp
Dry weight
760 kg (1675 lb)
Tractive effort
700 kg (1543 lb)
Fuel tank capacity
38 liters (10 US gal) (appox.8 hours of driving)
Number of passengers
6 people onshore / 4 people on water
Cooling system
liquid
Brake system
hydraulic
Transmission system
planetary differential
Steering
ergonomic handlebars
Load on the tow bar
150 kg (331 lb)
Working temperature, conditions
from -40С° to +40С° (from -40°F to 104°F)
any weather, any terrain